For questions and a personal advice, we love to hear from you. Feel free to call us.
+31 316-544487
Custom made mirrors
We are specialised in custom made mirrors.
Mirrors can be made in so many different colours, shapes, framed or unframed etc. that it seems to be just bounded by your imagination.
Ask us and maybe we can help you!
Vision2Form Design® Mirrors and mirror heating.
Product-information.
Vision2Form proofs with here new range of Design Mirrors that, simplicity can be beautiful. Functional and stylish design in coated Aluminum.
The combination of "cool" metal with warm wood, enhances the shape in a way that attracts your attention time after time.
Playing with shapes
The designs became what they are by playing with strong but simple basic shapes, shapes that leave an impression.
Materials
As important to the style and class that a product has besides the shape, is the material that a product is made off.
It pronounces the shape and its tension.
Aluminum has much quality's wich make it easily to combine with other materials and suittable to every kind of style in the interior.

The wooden parts on each design give it a touch of style and an almost classic appearance.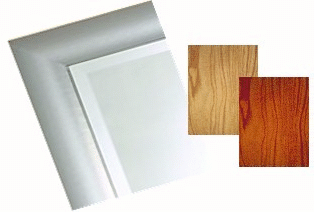 Aluminum frame
All our mirrors are made of:
An aluminum-frame
H x W = 2 x 4,5 cm.
Available in 5 different colors:
Nickel,
Steel,
Stainless steel and,
Brass
All frames can be enhanced with wooden parts in cherry or beechwood.
Mirror glass
The mirrorglass is 6mm thick, comes standard with a polished edge, and can be deliverd with an embeveled edge up to 35mm.
The high quality makes it suitable for damp rooms, such as your bathroom.
Blind mounting set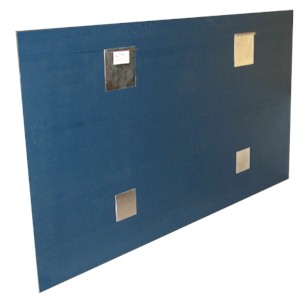 To mount the mirror, we use a professional 'blind' mounting set. This set wil be attached on the back of your mirror and will be completely invisible.
The set consists out of two mirror plates, two flat plates, two nylon rolls and two magnets. The mirror will be mounted upon the nylon rolls and be held to the wall by the magnets.
An advantage this set has is next to its invisible placement of mirrors, is the space behind the mirror. It assures a quick drying of the backside and makes it possible to place a mirror heatingset and/or lights later on.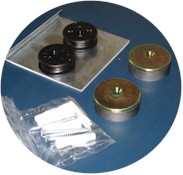 Quality:
Vision2Form products are produced in accordance to the European standards.
Unless marked otherwise, all of our products are made according to the highest quality standards.

All parts are polished and coated. This coating offers attractive advantages, mainly to its combination of pre-treatment, use of colour and hardening properties.

Besides the quality of our products, we maintain a high standard for our firm and those who deliver or work with us.