News
'Mirror heating'

Fogged mirror? Use our mirror heating and solve your problem!

For questions and a personal advice, we love to hear from you. Feel free to call us.
+31 316-544487
Tip!
Looking for a present to a special occasion:
a wedding, birth ....?
A mirror has something special!
An original gift.
Glass and mirrors - A rich history
Glass

Glass probably exists since the beginnings of time, formed as a result of high temperature .... Glass history »»
The history of mirrors

Mirrors are used by man long befor the discovery of making glass. Made of metal ....Mirror history »»
Vision2Form Design® Mirrors.
Mirrors can be made in so many different colours, shapes, framed or unframed etc. that it seems to be just bounded by your imagination.
To show you all those possibillity's on this site, is impossible. Therefor we have chosen a few designs and arranged a collection.
High quality wall mirrors, custom made and mirror heating.
"You will find yours at Vision2Form."Tonnie Lubbers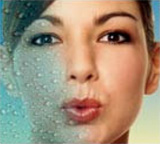 Mirror heating sales
As usual we keep our prices low, but now, we did it again!
We took almost a fifth OFF!!!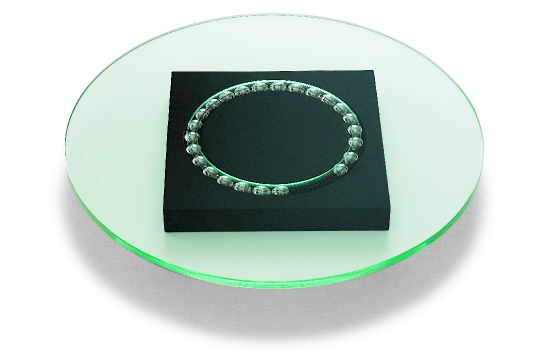 Lazy Susan
New are the granite Lazy Susans.
Decorative, functional and a perfect aid at your dinner table.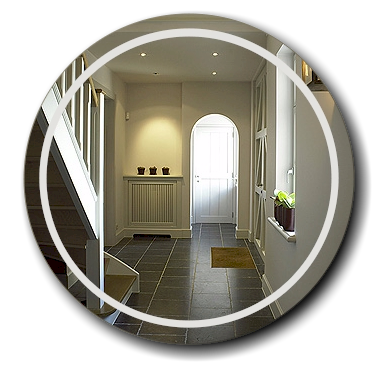 Hall mirrors
The hall mirrors in the series Line et O are simple yet exclisuve designs, a decorative mirror that will enhance your hall / entrance. Hall mirrors ».

Magnifying mirrors
New to our program of mirrors are the magnifying mirrors.
Door de standaard meegeleverde houder met zuignappen, gemakkelijk te bevestigen Mirrors with 5x magnification ».

Moderna
You are looking for a bathroom, livingroom or bedroom mirror?
The mirrors in this range will fit perfectly in a modern as well as in a classic interior.
Numerous possibility's in framecolor and arrangeing the wooden parts makes each product unique!

Decor sets
Mirrors become more and more a decorative object.
Design and its appearance will be strengthend by repeating specials forms.
New in our collection are 3 decorative mirror-sets, each set includes 3 high quality mirrors.

Specials
Images on mirrorglass - no bounds no borders.
This range contains a few examples of exclusive products we have made by sandblasting an image on them.
We can design such a special mirror for you!

Wall Art
Full size - wall high mirrors.
Contemporary designed mirrors made out of two colors mirrorglass. Brass- and natural- mirrorglass.
Through its special shapes and sizes, every piece becomes an object.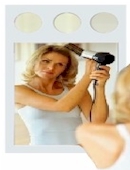 Bathroom mirrors
Bathroom mirrors are available in many different shapes and sizes.
With, or without a frame, round, oval, rectangular, or in a special shape.
We can manufacture them!
A few examples from our new collection! "Badeo".
Never a fogged mirror again?

Eliminate condensation on your bathroom mirror with a mirror defogger.
Available in 4 different sizes that can be powered by the same circuit as your bathroom light fixture, fan, or even a separate switch.

Glass accessories
New in our collection are the glass accessories.
The decorating of your interior will be successfull if all the elements are in balance. Accessories are essential, they are the finishing touch.
Custom made mirrors. You will find your wall mirror at Vision2Form.