For questions and a personal advice, we love to hear from you. Feel free to call us.
+31 316-544487
Custom made mirrors
We are specialised in custom made mirrors.
Mirrors can be made in so many different colours, shapes, framed or unframed etc. that it seems to be just bounded by your imagination.
Ask us and maybe we can help you!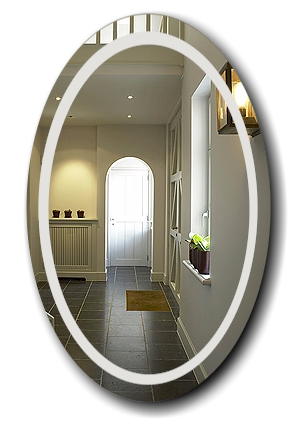 Hall mirror tips
Placement and function of hall mirrors
A hall mirror can be a functional and a decorative element.
The choice and placement of the mirror depends on your desires and what the mirror will be used for. On these questions we will try to shine some light.
What is the function of the hall mirror?

To determine the size of the mirror we have to know what its function will be. Should it be 'decorative' or is it 'functional'?

Hall mirror as a functional element

If your mirror is going to be manly functional, its better to use clear shapes, round or rectangle in a not to small size. Otherwise you might not be able to see yourself in total.

Next to that you want to make sure that other members of your family are able to use it.

Determining the size?

Face and hair checkup

Let a member of your family stand against the wall and look straight forward. Now mark the wall with a pencil at the exact same hight as the position of their eyes. Repeat this for each member and ofcourse for yourself.

The height now easily can be determined by adding 20cm to the distance between the heighest and lowest mark. Make sure the mirror is at least 25cm high and 20cm width.

You now have determined the visual field in wich everyone is able to see themselves.

Totall appearance

Hall mirrors in wich you want to be able to see all of yourselves, from head to toe, the minimal height would be 1.50m and it should be place on no more than 4 or 5 cm's of the floor.

Ideal would be to take the talest person of your family, take his 'eye height' and add another 5cm.

The width should be at least 30cm.

Hall mirror as a decorative element

Decorative mirrors can be purchased in many shapes and sizes even custom made and some of them a true piece of 'art'.

For a long hallway, or the stairway you could use a couple of mirrors in the same shape and size. Repeating a form enhances it and creates an exclusive atmosphere.

Using decorative mirrors is not bound by any rule just use your imagination and follow your own taste. To be sure nothing will be left out some tips in placement.

Large hall mirrors are best placed on the end of a hall if possible. The hall will look even longer. Make sure that on no mirror placed in the hall, regardless its size, it wont catch direct sunlight. Your entrance could be blinding.