Webshop - online shop
Vision2form - a vision in design and being found. We build your webshop and make it work.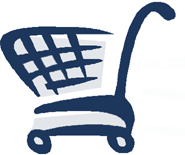 Online sales is booming business. Even during the crisis, sales figures keep climbing.
More and more companies decide to offer their products and services online.
We can help you with it!
For many years now we are online and selling our products. The knowledge we gathered by making many mistakes and experience what works and what not, we decided to offer this knowledge to our customers. We can say:
We can build your online-shop!
The shopsystem we use is Commerce Seo.
A shop that is ready for years to come due to a continous development. A shop that is addaptable to your wishes and that is presenting your products optimal.
Next to that we can:
Host
Install and adapt
Manage:

server updates
update shopsoftware
coordinate adjustments and plug-ins
coordinate legal (NL and D) adaption:

adjust terms and conditions of sale
programm requirements EU sales conditions
German law online sales
council advice from the Deutscher Händlerbund

Set up and install:

backend
plug-ins:

Payment modules
Shipping modules

Fill the shop with products and text
Translate into NL and D

etc. ...
Our webshop is being found in search engines! Yours too?